5 Cool Dental Scheduling Tips to Keep Your Practice Efficient
Your schedule is the nucleus of your dental practice. A chaotic and mismanaged schedule can lead to frustration, staff burnout, and missed revenue opportunities. But the right patient scheduling can provide a better patient experience, maximize efficiency and drive practice growth.
Here are some proactive pointers you can use to evaluate your current dental scheduling processes and create a streamlined scheduling strategy.
5 Pro Tips to Keep Your Dental Schedule Full

1. Reduce Patient Cancellations
Setting mitigation strategies for patient cancellations is critical to keeping your dental schedule full and effective. In the American Dental Association's Economic Outlook survey, nearly 79% of dentists said that patient cancellations and no-shows kept their schedules from being completely full.
What can you do to reduce patient cancellations?
Use texting to confirm appointment times in the way that patients want to communicate.
Share educational content with patients to encourage them to keep their appointments.
Set up automatic appointment reminders.
Enact a last-minute

cancellation policy

.


2. Implement Self-Scheduling
Self-scheduling is essential for today's patients. Giving them the option to view open appointment times online after business hours has been proven to increase appointments made and reduce no-shows, cancellations and rescheduling.
This frees up staff time and reduces scheduling headaches.
3. Change Up Your Appointment Increments
There's an art and a science behind the perfect dental schedule, and only you and your staff know your practice well enough to judge the right appointment timing.
You can start by analyzing each provider, procedure and appointment type to see exactly how long each task takes to complete.
Is it possible to switch from the traditional 15-minute increments to 10-minute increments for appointments? This small change can mean many hours back in production time for your staff over the course of a month.
If you're scheduling appointments back-to-back with no overlap, you may be leaving dentists idle as technicians and hygienists handle routine care before a final doctor consultation. Overlapping these types of appointments can create maximum efficiency for your providers.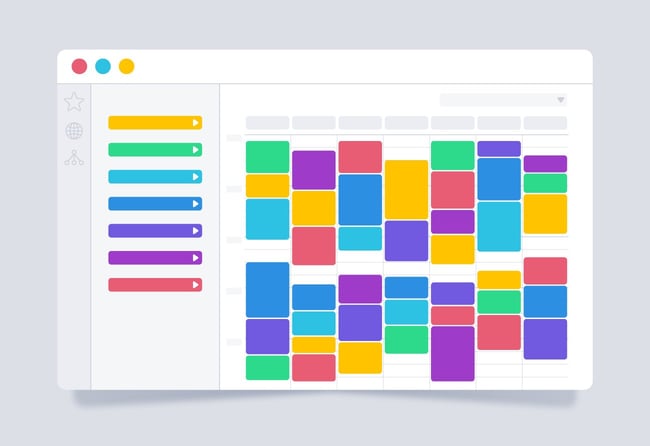 4. Color-Code Your Schedule
Take a quick glance at your daily schedule – what information can you glean from just a few seconds?
With a properly color-coded schedule, you should be able to see which appointments are confirmed or pending. This gives you the opportunity to follow up directly with unconfirmed patients.
You can also color-code for different types of procedures so that more labor-intensive treatments receive priority at the beginning of the day when staff is well-rested. You should also block times to give staff much-needed breaks!
5. Leverage a Short-Notice List
Once you contact unconfirmed appointments for the week, you should have a better understanding of gaps in your schedule. Use a short-notice list to fill gaps with emergent patients. Send texts to these patients waiting for an appointment and let them confirm the appointment time right in the text.
Take Control of Your Dental Schedule with
Curve SuperHero™
Curve SuperHero makes it easy to create the most effective schedule because it combines scheduling, billing, texting, patient engagement, imaging, charting and reporting in one intuitive platform.
Our clever scheduling features including drag-and-drop functionality, color coding, shortcuts and customization are proven to make scheduling faster. SuperHero also includes patient self-scheduling that puts you fully in control of your master calendar. Make your employees' lives easier and create a streamlined experience for your patients.
Click here to see the Curve SuperHero scheduler in action!