Getting new patients and retaining old ones is one of the most crucial aspects of running a dental practice. If you don't know how to increase patient volume in a dental office effectively, you'll lose revenue quickly.

These 7 tips will help you establish your business, make it stand out from the crowd, and draw new and old patients in like a charm.
How to Increase New Patient Volume in a Dental Office
#1 Make Booking an Appointment Easy for Patients
Self-scheduling is the perfect way to get new patients in the door. They don't have to go to the trouble to call your office and speak to the receptionist within the typical 9 am to 5 pm window.

With 60% of appointments made outside office hours, you'll want some way to engage with customers even when your staff isn't there.

Patients have the freedom to book their appointments on their own terms when it's most convenient for them. And, because the patients have a clear image of their personal scheduling, they are less likely to cancel their appointments.

We also recommend setting appointment reminders for the patient, that way they won't forget. Text message reminders are an excellent way to verify and remind the patient of their upcoming appointment.

#2 Send a Friendly Welcome Email
Establishing personal relationships is key with any successful business, but especially when aiming to increase the volume of patients at your dental office.

First impressions are crucial. So we recommend sending a friendly welcome email to new patients. The email can contain useful information like where to park, how early to arrive, and a short bio of their dental hygienist or dentist.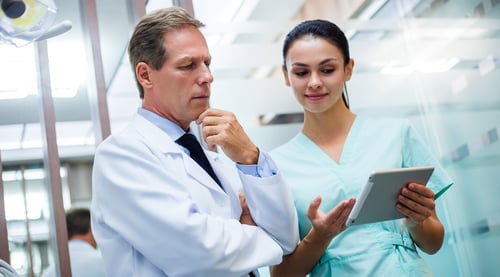 #3 Set Up Google My Business
Setting up Google My Business is key to connect new and potential customers to your office. It's completely free to set up your business profile, and it allows you to control your office's first impression. You can share photos, your logo, address, and operating hours. There's also room to respond to reviews and answer frequently asked questions.
#4 Read and Respond to Online Reviews
Responding to reviews is an easy way to build trust and credibility with your customers. Plus, it can help your office identify areas for improvement.

84% of people read online reviews and trust them like a close friend's opinion. Positive reviews are great, but negative reviews are just as important to the potential patient. Having negative reviews confirms the authenticity of your business.

If you want an increase in dental patients for your office, respond to negative feedback. Discuss a strategy for improvement and a promise to resolve the issue with the reviewer. This will establish trust with your patients, and publicly shows your office's attentiveness to the patients' needs.
#5 Invest in Your Marketing
One way to exponentially increase new patients for your practice is to invest in your dental practice's marketing.

Social media can be an excellent place to start. Think about your demographic: is your location surrounded by millennials and young families or retirement communities? Choose the best social media platform that will cater to them. For example, Facebook is excellent for the older generations, while Instagram and TikTok may help you engage with your younger patients.

We also recommend investing in a quality, user-friendly website design that can be easily adapted to a mobile device. While this is handy for patient self-scheduling, the website is also a reflection of your office.

If your website leaves patients frustrated and confused, that will only serve as a barrier between you and the patients. It's as simple as this: if they can't work your website, that's one less new patient for your office.
How to Increase Patient Retention at a Dental Office
To increase your patient volume in the long-term, it's important to implement patient retention strategies, too. Why go through the time and expense to bring a new patient in the door, only to lose the relationship long-term?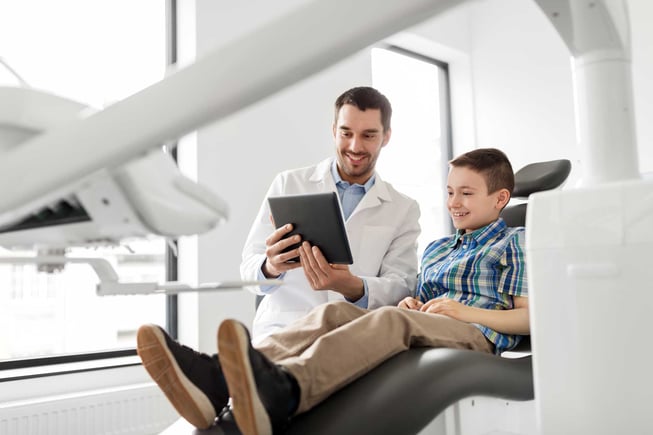 #6 Focus on the Patient's Experience
Now that you've got your patients through the door, make the experience comfortable for them.
In the physical sense, you can offer noise-canceling headphones for nervous patients. Or, you can allow patients to watch their favorite shows during the appointment; a little physical ease can go a long way.

Additionally, provide some mental and emotional comfort by allotting time to answer any questions the patient might have. This is more necessary for new patients who may have different dental needs than a cleaning.
#7 Remember to Follow Up
Patient health doesn't stop when they leave your practice. Follow up after care to check in and see how your patients are doing post-appointment.

This is even more crucial for larger dental work. However, even after cleanings, we encourage following up with the patient and asking for feedback. This continues to build good personal relationships with your patients. Show them you care about them and their experience.
The Dental Practice Management Software That Helps You Attract & Retain Patients
Curve SuperHero™ is the practice management and patient engagement tool every dental practice needs to increase patient volume.

With SuperHero, we combine patient self-scheduling, two-way texting, automatic appointment reminders, text-to-pay, and customer reviews all in your practice management solution. Curve SuperHero is also cloud based, so you can log-in anywhere that has internet access.

To see how Curve SuperHero can help you attract and retain patients, schedule your personalized demo now!