Running a dental business can be complex and all-consuming. However, with the help of automation, simplifying day-to-day operations can be easier than ever. Technology-based automation offers a host of benefits, from streamlining administrative tasks to improving patient communication. In this blog, we'll discuss the various ways you can use automation to simplify the business of dentistry and improve patient experience.
The Benefits of Automation
From appointment scheduling to patient information management to billing and insurance claims processing, dental practices have a lot to consider. A dental office can streamline its workflow, reduce human errors, and increase efficiency by setting up appointment reminders and submitting insurance claims automatically.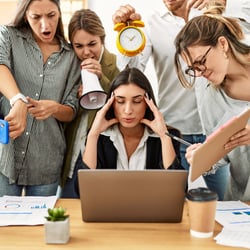 When your front desk staff wishes they had 8 arms, you can bring them back down to 2 with things such as automated appointment reminders and confirmations. The staff can then focus on providing quality patient care. Eliminating repetitive, mundane tasks can also reduce human error by getting team members out of a droning cycle. In addition, dental offices can make better business decisions with the help of automation because it gives them access to real-time data, insights, and analytics.

Furthermore, automation can reduce costs by decreasing the need for additional staff members. Many cloud-based programs will have tools that will even get you paid faster! Not just by the patient, but by insurance as well.

Overall, though, the benefits of automation for your dental business are clear. By leveraging automation tools and technologies, dental practices can streamline their operations and as we said, most importantly, deliver better care to patients.

How Automation Saves Time for Your Dental Business
One of the most significant benefits of automation for your dental business is its ability to save time. The traditional manual processes that dental offices use for daily tasks can take up a significant amount of hours for the staff. However, automation tools can help streamline your day. For example, with automated appointment scheduling software, patients can schedule appointments on their own, therefore creating less phone traffic for your front desk team. And some systems can automatically remind them of their upcoming appointments via text or email.

Automation can also save time for dental offices by automating insurance verification, claims submissions, and billing. The use of electronic claims submissions reduces paperwork and speeds up the reimbursement process, eliminating the need for the staff to fill out paper forms manually. Get money into your pockets faster! Additionally, dental offices can use automation to generate financial reports and track their financial performance more accurately, saving them time by eliminating the need for manual tracking.

When putting this automation in place, your team can focus on delivering exceptional customer service, helping to retain happy patients.
How to Implement Automation in Your Dental Office
If you've decided that automation could help improve your dental office's efficiency, it's important to take some steps to make the transition a smooth one. Here are some tips on implementing automation in your dental office:

1. Identify the processes that can be automated: Begin by evaluating your office's workflow and identifying processes that can be automated. This could be any number of tasks from patient check-in to operational duties.
2. Choose the right software: Once you've identified the processes that can be automated, you'll need to select the appropriate software or programs to implement. Look for solutions that can integrate with your existing systems and be accessed from anywhere.
3. Train your staff: Implementing new technology can be a challenge, so it's important to train your staff on the new systems and processes. This will help ensure a smooth transition and ensure everyone is comfortable with the new tools.
4. Set clear goals and metrics: Be sure to set clear goals and metrics for your automation efforts. This could include reducing wait times, increasing patient satisfaction, or improving billing accuracy. Tracking these metrics can help you identify areas for improvement and make data-driven decisions.
5. Monitor progress and make adjustments: Finally, be sure to monitor your progress and make adjustments as needed. This could mean tweaking the automation processes or making changes to how your staff interacts with the new tools. The key is to remain flexible and responsive as you work to optimize your dental office's operations.

Implementing automation in your dental office can be a game-changer, but it requires careful planning and execution. By taking the time to identify the right processes, select the right tools, train your staff, and monitor your progress, you can take advantage of the benefits that automation has to offer.

How Automation Reduces Costs for Your Dental Business
One of the biggest advantages of automation is the significant cost savings it can bring. Here are some of the ways in which automation can reduce costs:

1. Reduced Labor Costs: As mentioned, automating repetitive tasks can reduce the need for staff to handle these time-intensive chores, thereby saving on labor costs by limiting the amount of time your team works overtime. For example, automating appointment reminders, patient follow-ups, and billing can free up staff time for more critical tasks.
2. Reduced Paperwork and Administrative Costs: By automating patient record keeping, appointment scheduling, and billing, dental offices can save significant amounts of money on printing, postage, and other administrative expenses.
3. More Accurate Billing and Insurance Claims: Automating billing and insurance claim processing can help eliminate errors and reduce the risk of claims being rejected or denied. This can save dental offices money in the long run.
4. Improved Inventory Management: Automating inventory management can help dental offices keep better track of supplies, reducing the risk of overstocking or stock outages. This can save money by reducing waste and avoiding emergency purchases.
5. Better Financial Management: Automation can provide real-time data on key performance metrics, such as revenue, expenses, and profits, which can help dental offices make more informed financial decisions and improve overall financial management.

While there are certainly upfront costs associated with implementing automation, the potential long-term cost savings can make it a worthwhile investment. By reducing these costs and expenses, automation can help your business streamline operations and improve your bottom line.

All-in-all, we want you to know that if you're looking to automate for efficiency, cloud-based software is the way of the future. Weigh your options. But in the end, we highly recommend Curve SuperHero™! Curve can help you, firstly, by doing many necessary tasks remotely, as well as keep up team morale with the ease of use, patient satisfaction with modern day communications, data security with our highly monitored system, and more.