You might be a first-rate dentist with exceptional clinical skills. You might even surpass all your peers when it comes to performing root canals or crowning a tooth, but if you're not optimizing your practice's workflow and enhancing patient experience, you could miss out on reaching your full potential.
The success of your dental practice largely depends on how satisfied your patients are with their in-office experience, which directly impacts your patient retention rate.
In addition to ensuring patient satisfaction, you must also focus on best business practices that will maximize productivity.
Trying to keep up with the nuts and bolts of running a dental practice can be overwhelming. You want to focus on caring for your patients, but you're bogged down with the hassles of paperwork, patient communication, business analysis, technology, cost-saving measures, marketing, and more.
In today's competitive environment, you must go the extra mile to ensure your practice stands out. But with a shortage of staffing, you might not have the time or resources to do everything necessary.
That's where a comprehensive all-in-one cloud-based software solution comes into play. Imagine if you could hire a full-time employee for less than $4/hour. That's essentially what you get with Curve Hero™; a digital employee that works around the clock to make sure your business goals are met.
With all-in-one cloud-based software, you can work from anywhere in the world with an internet connection to make sure your practice remains operational even if you or your team members are working remotely. Here's how the right all-in-one software solution can enhance patient satisfaction and drive business success:
Enhancing Patient Satisfaction
Half of the battle in growing your business is getting new patients to visit your practice. The other half is getting them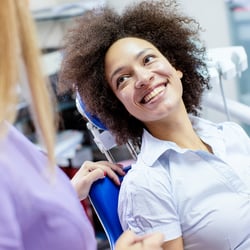 to come back for recare appointments. When you provide a positive experience starting from your patient's first impression from scheduling their initial appointment through the entire lifecycle of their visit which includes billing, recare reminders, and self-scheduling, you'll find that you won't have to work so hard to increase patient retention.
What exactly does it take to provide a positive patient experience? Well, patients want to feel in control. If you can help foster a sense of power and autonomy, you're already one step ahead of the rest.
The Power of Choice
For patients, taking control starts with the ability to make an informed decision on who their dentist will be. Did you know that 86% of patients look through online reviews before choosing their dental provider? Needless to say, online reviews are essential for attracting new patients.
But it's not always practical to individually ask patients to write an online review. With all-in-one software like Curve Hero, you can automatically point patients to your Google, Facebook, and Yelp sites in post-appointment communications. This increases the likelihood of obtaining online reviews and strengthening your reputation without additional effort on your part.
Now when patients in your area search Google trying to find the right dentist, they'll likely be drawn toward your practice because of the collection of positive reviews you've acquired.
The Power of Convenience
No one enjoys being burdened with paperwork. Curve GRO™ patient engagement, which is included in Curve Hero, helps patients feel in control with customizable online forms that can be filled out in the convenience of their own homes.
Once they arrive at your practice, their data will automatically be entered into your database, which saves your patients time in the waiting room. It's also much more convenient and efficient for you because it eliminates human errors that often occur with data entry.
Two-way texting within GRO also gives patients a sense of confidence since their questions get answered in a timely manner. An efficient all-in-one software solution will make patient engagement as effortless as possible, not only creating a positive patient experience, but also saving you time and boosting productivity.
The Power of Time
Taking charge of their own schedules allows patients to feel a profound sense of control. Curve's self-scheduling feature allows patients to book their own appointments online while keeping your practice in complete control, the ultimate win/win.
That's one less task for your staff to manage and one less phone call for your patients to make.
The Power of Information
Being in control of one's own health starts with patient education. When patients have a better understanding of their own oral health and of any dental treatments you recommend, they are more likely to trust you and accept treatment.
With Curve's all-in-one software, patients have access to a comprehensive library of informational videos. The more informed patients are, the more empowered they will feel and the more confidence they'll have in you.
Driving Business Success
The first step in ensuring business success is improving patient satisfaction. Curve Hero increases the chances that patients will have a positive experience while reducing staff workflow.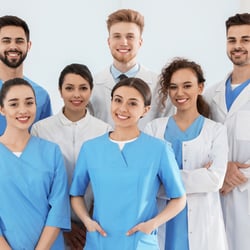 The next step in driving business success is boosting productivity. A top-notch all-in-one software solution will streamline your workflow so that you can focus on caring for your patients.
Business success also depends on other key factors such as saving money and having clear business goals and analytics. Much of this depends on the software you use. In fact, your practice largely depends on how efficient your software is.
Dr. Roger Levin, a renowned author and speaker on dental practice management and marketing systems, identifies four major areas of dental practice management that dentists should take command of:
1. Operational areas
2. Financial management
3. Human Resources
4. Marketing
Here's how having all-in-one cloud-based software can help you manage all four key areas:
Operational Areas




According to Dr. Levin, "Operations are a direct reflection of the level of efficiency in any given practice." Business efficiency depends on how well you're able to streamline your daily operations.

An all-in-one cloud-based software solution helps increase productivity and ultimately profitability by syncing all your data into one database, enabling you to multitask efficiently, and automating your most repetitive tasks. It also gives you remote access from anywhere with an internet connection so that you can keep working even when you're not at your practice.

You can also save time by bypassing multiple phone calls to your software or hardware providers. With all-in-one cloud-based software, you simply need to make one phone call to resolve any of your questions or technical issues. If you're using Curve, then that call will be answered in one minute and wrap up successfully within 10 minutes, on average.

Financial Management


Saving on overhead costs is a surefire way to increase profitability. Since you don't have to pay for hardware or multiple software applications with all-in-one cloud-based software, you'll end up saving money.

You'll also realize that a dental software solution like Curve is essentially like having a full-time employee work for you for about $4.00/hour. It handles numerous tasks that would typically create unneeded complexity and demand significant time and financial commitments.

Another advantage is you no longer need to pay an IT person to fix any software-related issues or install new updates. With cloud-based software like Curve, updates are installed automatically so that you get the most value for your money.

Human Resources


Dental practices work best when the whole team is on the same page. When all of your different software applications require considerable training and expertise, you might not find the time to train each staff member to a mastery level.

Then there's the challenge of trying to hire a temporary worker with the experience required to operate your software system. Without the necessary experience, temporary hires will need substantial hands-on training that will slow down your workflow.

However, with a well-crafted all-in-one software solution like Curve Hero, your staff will be productive after only hours of training versus the weeks typically required on server-based products. Since Curve is user-friendly, it's quickly adopted by your staff. And because all your data is stored in one system, there are fewer passwords to remember and less chance of data-syncing errors.

Dr. Levin acknowledges that dentists just don't have the time

to work on human resources or administrative issues, so he concludes that "systems and protocols must be so well defined and understood by the team that simply following them allows for the practice to perform in a superior manner." You can't perform in a "superior manner" if your team is overwhelmed by multiple software applications. Curve makes training your staff members easy and gives your team all the support they need.





Marketing




It's no surprise that the dental field is competitive. You have to compete with a multitude of other dentists for the same patients within a 5-mile radius. This means that your online presence is a vital element for growing your business. Automated requests for Google, Facebook, and Yelp reviews with follow-up "thank you" messages will help cultivate a strong online image and reputation.
Another part of dental marketing is building trust and retaining patients. With Curve, you can customize easy-to-understand treatment plans so that your patients feel confident accepting treatment.
Curve's patient portal gives patients the ability to upload forms before stepping foot in your practice. They can also view appointment summaries, review balances, and submit payments all in one place. The whole process from A to Z becomes much more straightforward for your patients.
Analyzing Your Business
Beyond maintaining patient satisfaction, you can't grow your business without knowing the ins and outs of your practice. Having clear business insights helps you identify strengths and weaknesses, make data-driven decisions, improve performance, stay competitive, and plan for the future.
Curve's robust reporting feature allows you to easily view your numbers and general productivity, such as customer and sales reports, in an actionable graphical dashboard – all while you sip your morning coffee.
Embracing All-In-One Software
With the number of operations it takes to run your dental business, you could purchase multiple software applications, but that would incur extra costs and make it challenging to sync your data. All-in-one software combines multiple interfaces, which lightens your staff's workload and lets you focus on caring for your patients.
Inevitably, growing your practice also involves staying up to date with the latest technology. It's already challenging enough trying to implement new technologies and training your whole team. Now add multiple software applications to that, and much of the time it can feel like technology has added more stress to your life rather than alleviating it.
That's why Curve makes it easy for you to integrate new technology with your practice software. Because of its comprehensive all-in-one platform, Curve is able to embrace new cutting-edge technologies and make them readily available.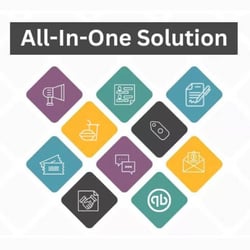 So, if you're looking to upgrade your practice workflow, all-in-one cloud-based software is likely the best choice. Patients can easily book appointments, access their appointment summaries, and communicate with your staff through a user-friendly interface with Curve. This level of convenience empowers patients to take an active role in their oral health, leading to increased engagement and satisfaction.
By integrating various functions, improving convenience, and enabling data-driven decision-making, Curve paves the way for a more patient-centered and efficient dental practice. Embracing all-in-one cloud-based software is not only a win for patients but also for dentists looking to grow their businesses in an increasingly competitive landscape.
Learn how Curve Dental's all-in-one software can dramatically optimize your workflow while saving your practice money.