The truth of the matter is you're a dentist. You may not have taken all those business and marketing classes in school. But that's okay! You clearly have the mindset of an entrepreneur because you've opened your own practice. There are plenty of marketing tips and tricks out there for you to absorb. While you're doing your own research, we want to make sure you avoid the advice that might be a little off track.
5 Marketing Mistakes Dentists Make When Promoting their Dental Practice
Yes, you need to market your business. Grab those patients that haven't heard from you before. Grab those patients that have heard from you but were unaware of your new dental practice. Show the world why your business is the best one on the block. While doing so, make sure you avoid these common mistakes:
Social Media:

You're probably drawn to social media because it's the easiest way to market yourself. And it's free! (If you're not paying for ads.) However, don't overuse/abuse this outlet. If overused, used incorrectly, or posting irrelevant content, you could actually be hurting your business.

It's best to understand how to use the different platforms to your benefit. You can even take a free course to learn more about the proper way to market your dental practice through social media. Start with a social media marketing strategy and follow some guidelines to make the most out of your social media pages.





Create Content:

A novice to marketing may think

that promoting your business is the only thing you should be doing. Throwing out discounts, talking about why you're so cool, hype, hype, and hype. In reality, this is not the case. When you create content to share or post, you need to think about the person on the other side of that computer screen or mobile device.

When you're on your computer, do you get annoyed by pop-ups, loud and obnoxious fonts, sales videos, etc.? Yes, you do. You're a human. Think about marketing to yourself and what you would prefer. Many times, it's best to share "thought leadership" pieces to illustrate your expertise. Patients find a brand more trustworthy when they want to educate rather than sell.



Strategy Disconnect:

If you're new to marketing, there's a major mistake that will hurt you down the line. So, get in front of it. Once you have a strategy in place, follow that plan as best you can. Most importantly, make sure you are

tracking

your efforts

. You'll want to see which tactics are working and which are not. You'll want to see where your web traffic is coming from, so you can better interact with those prospects. If put in place correctly, you can track your ROI (return on investment) regarding your marketing efforts. If your efforts are disconnected from outlets and supporting team members, it could be all for naught.





Broken forms, links, and checkout systems: You visit a website. You incessantly click on a word that should link to your desired destination but goes to the wrong page or no page at all. You yell at the ceiling, and then you close your laptop. Sound familiar?

Before you start any marketing efforts, complete an audit of your website. Test out all your forms, test out all your links, review all content to ensure it's relevant and holds authority. You could be missing out on potential patients, as well as missing out on money owed to you because of a broken checkout system. Your dental practice management software should make everything easy for you and your customers. Work Less. Make More.



Targeting the Wrong Audience: Do you specialize in pediatric dentistry? Have you set up a target for ages 3-7? We all know that's not going to work. You should be targeting parents. Do your research on the demographics of parents in your area. And then, you can hone in on that audience and serve them content they care about. Like "how to teach your children about the long-term benefits of brushing their teeth."





Do you specialize in orthodontics? Why are you targeting 60-70 year olds? Of course, this all seems very obvious, but if you're not paying attention, you could be throwing money away. Get granular on your marketing demographics, and you'll see a much more positive return.
Marketing Starts with an Advanced Dental Practice Management Software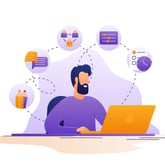 Advanced dental practice management software can lead you directly to your audience. The software should be able to run reports for you that can give you better insight into your ideal patient profile. Track your most popular procedures and create a seasonality map for your marketing efforts. And just like we mentioned above, efficient checkout systems can help keep patients happy (why? Because who doesn't love EASY?) and put money in your pocket. You can learn more about dental management software and decide what's best for you. Make it a great start to a new year.