Many dental practices are feeling the staffing pinch. According to a May 2021 poll from the ADA Health Policy Institute, 35% of owner dentists are recruiting dental assistants, 28.8% seek dental hygienists, 26.5% need administrative staff, and 13.1% are searching for associate dentists.
Recruitment is challenging for all positions, which is causing a domino effect across the industry. Competition for talent has impacted compensation which is problematic for practices that in the first half of 2021 continued to see lower-than-normal patient volume and increased overhead costs to meet COVID-19 safety protocols.
HPI data from May 2021 shows the majority of hiring dentists have raised the pay rates for dental assistants, hygienists, and administrative staff since the pandemic began, with 73.1%, 70.7% and 67.1% increasing pay for assistants, hygienists and administrative staff, respectively. However, dentists continue to fight off attrition despite their best efforts.
Dental practices have the unenviable task of keeping their teams happy and effective in this turbulent environment. It can be difficult to compete when staff are tempted by greater compensation and other perks from competing practices. Now that the second half of 2021 has seen more patients returning for appointments, staff shortages are often having a direct impact on patient satisfaction and retention.
So, how will you compete for talent in today's world? Here are 4 ways to make your practice more attractive for your current team and prospective employees.
1. Evaluate Your Practice's Culture
Have you created a healthy culture for your staff that keeps them motivated and enables them to help you deliver a great patient experience? One of the leading causes of staff attrition is poor internal communication. Does each position have a clear job description? Have you communicated job expectations and practice protocols? Do you make it a point to praise employees for great work and provide job performance feedback? By doing this, each member of your team will feel like they are part of a well-run organization that cares about them. Here are a few ideas:
Write a mission statement to let the entire team understand your vision for the practice. Document your practice's values such as clinical excellence, attention to detail, friendliness, timeliness, etc.
Speaking of documentation, create a written structure for morning huddles, team meetings, and addressing concerns. The better your team understands your expectations and structure, the happier and more productive they'll be. Set everyone up for success.
Recognizing individuals for doing something excellent goes a long way, but it is equally important to tackle substandard performance when it is still fresh. Address issues directly and professionally by sharing your observations and clearly explaining what behavior or action they need to change. All of this adds up to a very positive culture which will go a long way in retaining staff and attracting talent. While money talks, a great culture can be enough to keep good people in the fold even if they are offered greater compensation at a different practice.
2. Refine Job Postings
Avoid making your job posting so specific or daunting that no one qualifies. Provide a position summary, key responsibilities, and what you can offer to them. In such a competitive market, candidates will be evaluating you too! Note available training, advancement opportunities, continuing education, benefits, your great culture, and more. Make your job post professional, but not devoid of warmth. Think of it as an ad for your practice, so put your best foot forward.
3. Job Referrals
Employee referrals from trusted staff are gold. Make sure your team is aware of open positions and offer an incentive for a referral. Typically, they'll recommend like-minded people who will fit into your practice's culture. Expand your referral approach to colleagues, partners, and patients as well as your own personal network. Craft an email laying out the specific position(s) you are seeking to fill and the required experience. The more information you can provide, the better that members of your network will be able to help.
4. Expand Your Reach
The practice management software you use can have a direct impact on your ability to attract new team members. If it is difficult to learn or use, you may be limited to hiring only people with experience on that software. If the candidate has no dental experience, that might be a mountain too high to climb. If you use server-based software, all new hires, including non-clinical roles, must typically be on-premise which constrains your search geographically.
Contrast that with Curve SuperHero™ which is an all-in-one cloud-based practice management solution. Because it is cloud-based, staff can access patient data from any computer with an internet connection. That means you can recruit non-clinical talent regardless of their proximity to your office. Whether it is billing, scheduling, or other tasks, a staff member can be highly productive remotely. This expands your talent pool exponentially. Another advantage of SuperHero is its interface is easy to learn and use. Whether you are bringing on an experienced dental professional or someone new to the industry, the time to become Curve-proficient is minimal. Couple that with a proven training process and online training content available through Curve Community and you can get new or temporary staff up to speed quickly. Easy-to-use software also means that your team can focus on the jobs they were hired to do, rather than spending time they don't have working with clunky software. Talk about a morale boost!
Check Out PracticeCraft's 7 Step Checklist
This infographic from PracticeCraft outlines steps for attracting top candidates to your practice and is a helpful guide for your recruitment process.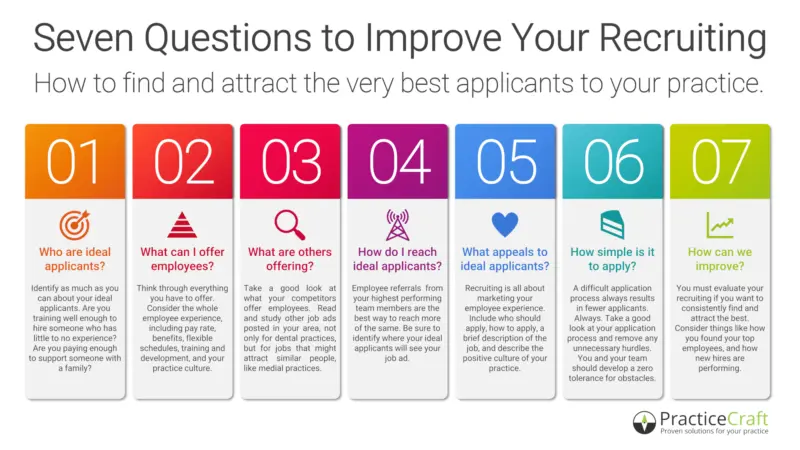 Attracting talent in today's market will continue to be challenging. However, having a solid understanding of the competition for talent in your area, a strong game plan for defining your open positions, addressing the needs of potential applicants, and continually improving your process, will help improve your chances of adding to your team. Combine that with practice management software that broadens your geographic reach and is easy to learn and use and you'll have a leg up on the competition.