Patients aren't just looking for dentists with excellent clinical skills. They also expect friendliness, empathy, and an adequate understanding of their needs. This is where a dental communication system comes in.
An effective dental communication system helps you connect with your patients. This connection goes a long way in giving them a positive perception of your dental practice. It also encourages them to keep coming to your office and referring your practice to their friends and family.
Discover how important a dental communication system is for your practice and how to optimize it.
Why Should You Get a Dental Communication System?
According to Small Business Trends, consumers prefer text messages to other communication platforms. They are also more responsive to them. Here are data points you should consider:
55% of consumers prefer SMS (text messages) for appointment reminders versus 35% of consumers who prefer email notifications.
82% of text messages are read within 5 minutes, while consumers only open 25% of emails they receive.

75% of millennials think that texting is a helpful way to receive reminders.

According to

SpotOn

,

less than 5% of scheduled appointments are canceled after a customer receives a text reminder. Also, text messages have an open rate of 98%.

A study found that text reminders

reduce no-shows by 40%

.
4 Reasons A Dental Office Communication System Is Important for Your Practice
It takes time to create great patient communication. Plus, you're busy enough providing your patients with the best dental care. Thankfully, there are tools that can take this burden off you. What's more, they can help you communicate with your patients in real-time - just like you would.
Here are 4 reasons why you need a dental office communication system for your practice:
1. Improve Patient Satisfaction
Patient satisfaction is a critical metric in evaluating the quality of your dental practice. This is because patients tie communication skills with the quality of dental care they receive. They judge this mainly by the level of empathy, information, and consideration of their needs that they receive from your dentistry.
A dental office communication system also goes a long way to reducing patients' complaints. This is because complaints can be quickly resolved or prevented through better communication between the dentist and the patient. This will, in turn, give them a positive perception of your dental practice.
2. Increase Patient Retention
Retaining existing clients can be up to 25 times less expensive and easier than acquiring new ones. Your dental patients aren't an exception. The best way to do this is to keep them happy. And this goes beyond giving them healthy smiles. Patient communication is critical to increasing patient retention in your dental practice.
How you communicate with patients directly impacts their perception of your practice - and perception is what makes them stay.
3. Reduce Patient No-Shows
Many times, patient no-shows happen due to poor communication. With a dental office communication system, you can send automated reminders. This means you can remind your patients of their appointments.
If it's a two-way communication system, it makes things even better. Your patients can reschedule their appointments by simply sending a message when an unforeseen event comes up on their end.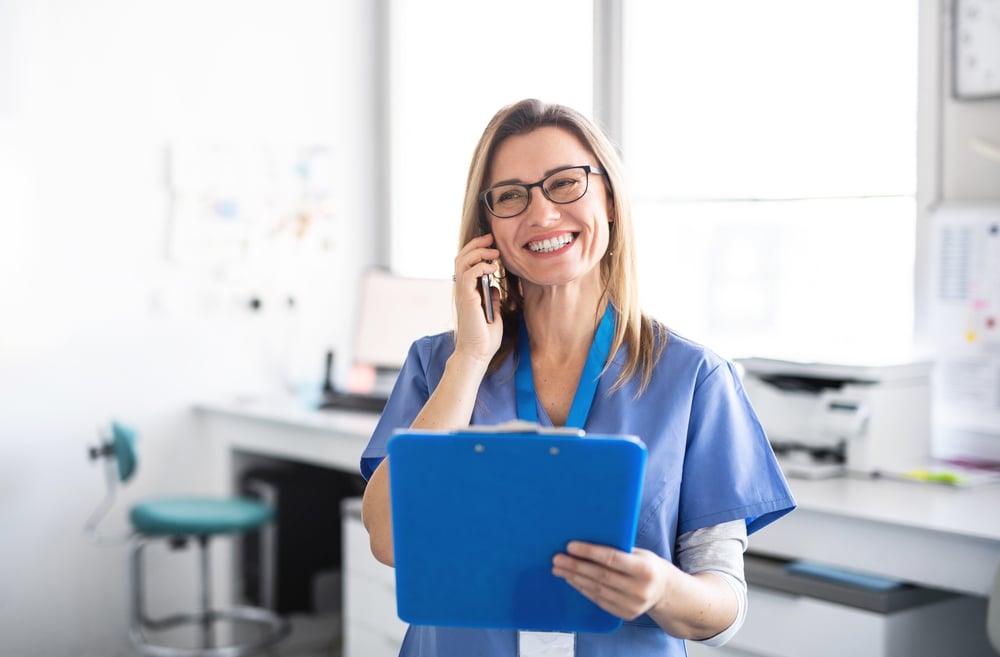 4. Increase Professional Satisfaction
Happy dentists and staff lead to happy patients. A dental office communication system makes your practice easier to manage. And this gives you satisfaction in your dental practice. It also helps you maximize productivity and keep your chairs filled.
It lets you focus on what you love to do - providing excellent dental care to your patients - without worrying about communication-related issues.
Improve Your Patient Communication with Curve GRO™
There are many dental office communication system options to choose from. But, most of them are third-party software tools. And you'll need to integrate it into your existing practice management software. Typically that will be an expensive addition to your monthly costs and cause data syncing issues.
With Curve's dental patient communication system, Curve GRO™, you don't need expensive add-on software. It's built inside your existing Curve Hero platform. This means your communications and your patient records are in one database eliminating data syncing issues or expensive add-on software.
Among its many benefits, Curve GRO automatically manages patient reminder campaigns and updates the schedule when the patient confirms. For patients who may need to change their appointment or ask questions, GRO delivers 2-way conversational texting.
Schedule a demo to discover Curve Hero's awesome features, including Curve GRO™