Mark Blount, VP Marketing - Curve Dental
Happy New Year! As we race towards the quarter-mark of the 21st Century, I find it intriguing that we still have dentists ask us "Is Curve safer than paper dental records?" The answer is an emphatic "yes" and in this blog, I'll share the Top 5 Reasons Why. Before we dive in, let me acknowledge that this question is not surprising given that dentists are historically slow to embrace new technology. As a proof point, today over 70% of healthcare providers (and growing quickly) are in the cloud, but only 9% of dentists are running their practice on cloud-based software. Surely the rest of the healthcare continuum is equally as concerned (and regulated) as dentists with regard to the safety of patient records.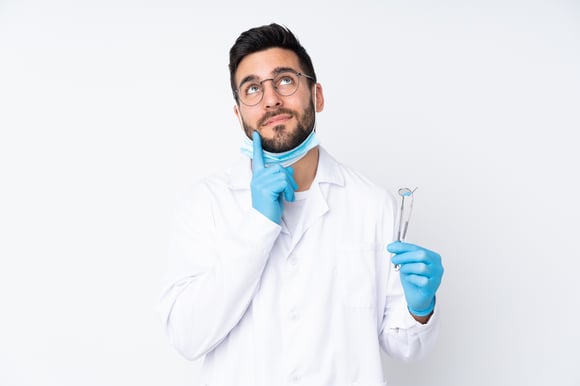 As a side note, the dental cloud trend could be changing. When COVID-19 struck last year, Curve experienced a 250%+ increase in dentists moving to Curve Hero, our cloud-based practice management solution. Apparently, the logistical and business challenges of the pandemic served as a pivot point, with practices racing to embrace the proven advantages of cloud-based practice management software, especially during a crisis. These include seamless, full-featured access to the system anytime and from anywhere, teledentistry, no-touch processes for patient scheduling, payments and waiting rooms, triaging dental emergencies, and more. At the same time, dentists conveyed confidence that Curve would constantly and professionally manage, back up, protect, and secure all of their records centrally at a top-tier national data center.
OK, so without further ado, here are The Top 5 Reasons Why Curve is Safer Than Paper Dental Records: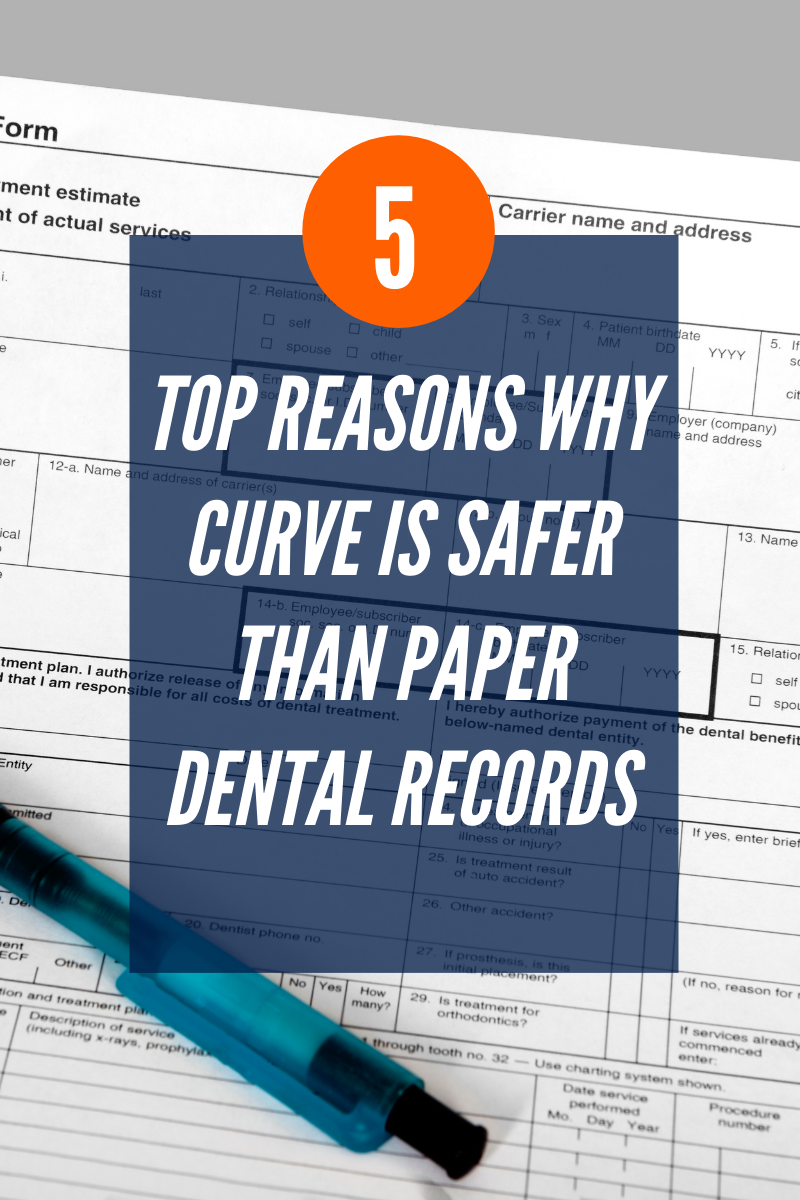 Data Storage & Disaster Recovery - Dental practices must ensure that patient data will be safe in worst-case scenarios, such as theft, vandalism, or natural disasters like a fire, flood, or earthquake. With Curve, everything (data files, images, patient records) is stored and managed in an Amazon Web Services (AWS) data center and professionally backed up regularly. With Curve, you never need to worry about a disaster impacting your access to your data. On the flip side, attempting to routinely backup paper dental records is laborious, very costly, and inefficient, so few do it. Paper records, once lost, are gone forever.
Access Control & HIPAA - With Curve, you can easily and securely control who has access to what data and when. Conversely, similar security measures for paper records are limited. Stolen, lost, or misfiled paper records negatively impact patient care and could constitute a HIPAA breach. With Curve, it is simple to search and access patient records in seconds. There is no worry of losing misfiled information since you can locate a file instantly via keyword search. If paper records are not properly filed, stored, and easily accessible to provide patient care when needed, it leads to a poor patient experience and could constitute negligence that opens up your practice to a lawsuit.
Audit Trails - With paper records, you don't have automatic version histories and user audit trails, which can lead to inaccurate, unreliable, or incomplete patient data. With paper, it's often difficult, if not impossible, to locate where changes have occurred, when, and by whom. Curve has activity logs and version records that simplify auditing and ensure tracking by automating it.
Data Security & Encryption - Often, practices allow paper patient records to be stacked up on desktops or folders may be inadvertently left on a copier. A paper dental record is easily exposed for anyone to see, photograph, transcribe, copy, scan, or fax to a third-party. Alternatively, patient data in Curve is protected with user permissions and robust encryption methods to keep crucial patient information secure. In order to keep your data safe, Curve uses the strongest possible encryption methodology to secure data when being sent to/from the cloud and while it is being stored. Paper records do not provide your practice or patients with the security that Curve delivers.
Remote Access – With new dental practice guidelines on the heels of the COVID-19 outbreak, it is more important than ever for practices to have remote access to patient records. For the safety of staff and patients, some personnel (such as schedulers, billers, and marketers) do not need to be in the office to perform their role. Curve's cloud-based solution delivers anywhere access to the complete system and all patient records. That safety is something that paper- based systems cannot touch (pun intended). Not only does Curve keep your data safer but Curve facilitates a safer office environment by allowing for remote staff, less patient time in the office, and low-touch/no-touch patient engagements.
These are just some of the safety benefits Curve delivers over paper. Inherent in all of these are tremendous cost savings with Curve as compared to paper due to improved process efficiency, higher-integrity records, less liability, and reduced hard costs (such as labor, copiers, paper, filing systems, and off-site archives).
Curve delivers private 1:1 product tours daily and we would be pleased to show you what we can do for your practice. Call 1.866.351.0749 or visit www.curvedental.com.