From a business perspective, there are three key tasks that the dentist and their staff must complete regularly to keep the dental practice open. One of those is dental billing; the other two are recall and insurance management. Dental billing is critical to every dentist, not only because it is a means whereby the DDS is reimbursed for their services, but it's also an extension of the dental office.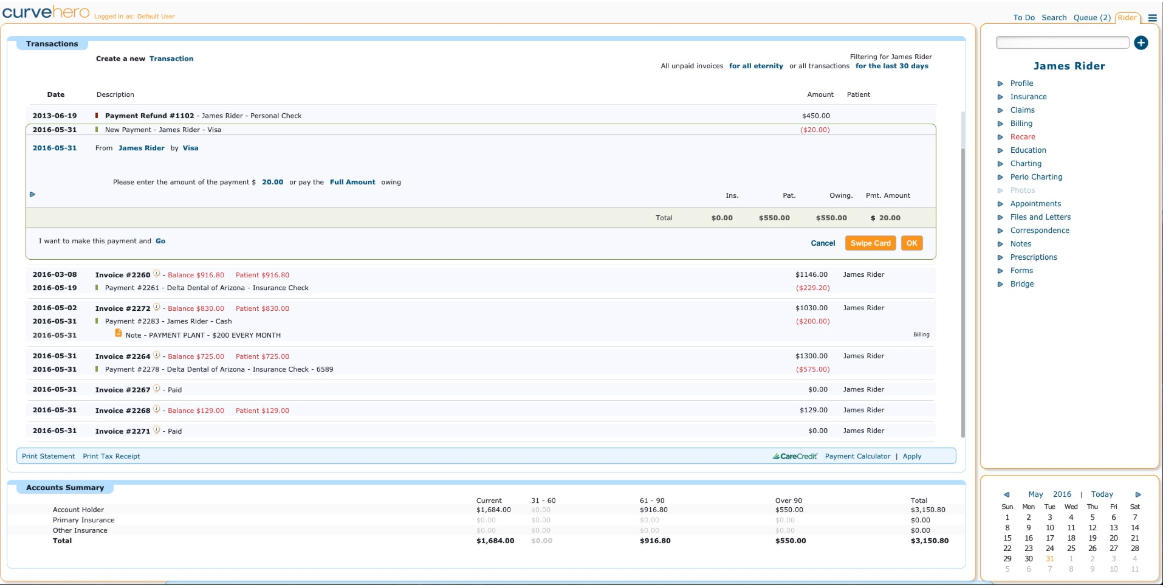 Here's what dentists and dental offices are saying about our billing services:
Effective statements
Curve Dental produces easy-to-understand and professional statements that are more likely to solicit full payment with clear and concise details. They also feature an easy-to-find balance, payment instructions, and a list of other dental appointments for members of the same family.
Easy to learn
Our crisp, clean approach greatly contributes to more accurate statements.
Effortlessly post payments
Our dental billing software helps make light work of posting all payments. Payments are automatically applied to the insurance portion or the patient portion, depending upon the payee. And that saves time, which saves money!
Fast adjustments
A day doesn't go by when adjustments must be made to a number of accounts for a variety of reasons. Curve Dental's workflow keeps you in one window so you can accomplish this task quick and easy.
Professionally printed dental billing statements
Curve Hero includes a long list of ready-to-run reports to help you keep a finger on the pulse of your practice. Every dental office manager—and the doctor—will want to see how Curve Dental's patient billing software performs under the most demanding circumstances. And the best way to get start is by seeing a demonstration. One of our friendly dental software consultants can show you every little feature and benefit Curve Dental's billing software has to offer.