A Mashup of Collated Hits for the AADOM Tribe
Read articles and blogs on a wide range of practice management topics. Learn everything you need to know about cloud-based practice management software including videos from your peers sharing their experience with Curve Hero, used by over 70,000 dental professionals. And those are just the opening acts.
Now, on with the show...
We Believe in Easy
Curve is dedicated to making the operational side of running a practice easy for office managers, while also providing a superior clinical experience for dentists. That's our motivation in the many things we have built into Curve SuperHero, the dental industry's top-rated and most widely used cloud-based practice management software solution.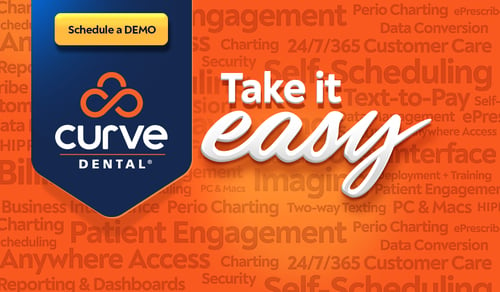 Curve SuperHero makes it easy to do scheduling, imaging, billing, payment processing, patient engagement, and much more. Patients love the ease of self-scheduling and confirming their appointments, checking in using smart forms, and communicating with the practice via 2-way texting.
If you'd like to see how Curve SuperHero makes managing your practice easier than you ever imagined, contact us for a demo. We'd love to give you a tour!