First thing is first, don't let assisted hygiene scare off your hygienists. This is NOT accelerated hygiene, not some initiative to stick them with more work, longer hours, or being at the doctor's beck and call. This is actually a term to integrate more help for the hygienist and the doctor. Assisted hygiene will create better efficiency, better teamwork, and an overall happier staff. Most importantly it's an approach where you can sell more in a one hour appointment to an appropriate amount of patients instead of overloading your books, and it's a greater experience overall for the patient.
What is Assisted Hygiene?
"Simply put, it is a concept where the hygienist has his/her own assistant or shares an assistant with another hygienist." -Dental Economics. An assistant can have any number of duties. It depends on the state of the practice (so look up the laws and protocols in your state) and the amount of education an assistant may have. A dental hygienist assistant may be able to help in numerous areas of the office, including:
Seating the patient

Exposing radiographs

Taking blood pressure

Reviewing medical history

Completing initial plaque removal for Type 1 patients

Initiating oral hygiene instructions

Discussing the patient's dental concerns and how to address them

Capture intraoral camera images


Capture blood pressure reading

Complete intraoral scanning
Taking that into consideration, think about how many things can be done upfront, giving both you and your hygienist more time to better care for patients and increase your production. And how happy would your hygienist be with a little help from a friend.
How Does Adding a Dental Hygienist Assistant Help Your Business Thrive?
Since COVID and the Great Resignation, 1-in-12 hygienists have left the field. And at the same time patients are overdue, and they're showing greater disease than ever. So, the industry is seeing is a greater focus on getting patients into the schedule so they can get the care that they need. And help the practice increase revenue. Because if the patient has periodontal disease, they can't be treated in one appointment, it is going to take a minimum of three. How do you pre-book that? How do you pre-block that? How do you get all of these patients who are overdue in when you have less team members, because you lost half your team during COVID? Or you may have team members who just are new. Especially with new grads, potentially not as fast as your previous members. This is where the assisted hygiene model can really improve production and patient satisfaction.
"Working in an assisted model can improve patient care and the hygiene experience. Patient involvement and experience are essential for this to work; the assisted model helps develop the relationships between patients, hygienists, and assistants." -RDH. And how do you make those recare appointments? You do it with patients that enjoyed their experience. Don't take that for granted.
In addition, it lowers stress and burnout for your team. With the assistant hygienist able to help in so many areas, including the checkout or booking desk. You may even see an increase in team morale by this little helper relieving some daily duties. Most offices even see an increase of 2 patients per day. Be sure to keep communications open however, without that, you could see a breakdown in the process. Of course, we recommend daily meetings to plan out the day with every staff member.
20-20-20 Rule in a Dental Office Process

The 20-20-20 rule keeps things moving and gives a great patient experience. It allows someone to be in the operations rooms at all times. You can assuage patient stress by not leaving them alone in there to dream up the scary dentist person! The hygiene's assistant can start with education in the first 20 mins, and the hygienist can continue education and perform any necessary procedures. Then the dentist really only needs 10-15 mins to follow up. Which leaves the last 5 minutes for payment and recare scheduling.
See this example booking layout from Burkhart Dental Supply: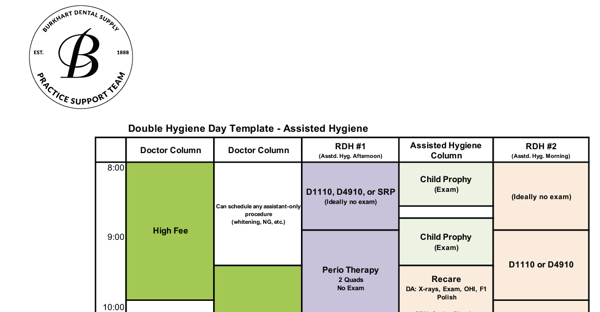 Using this methodology will not cost you an arm and a leg. And you'll see the ROI in other areas very quickly. And if you pick the right candidate, you might have a new hygienist down the road!