Looking for the best dental practice management software for your organization? The right solution makes all the difference in your practice's ongoing efficiency, productivity and growth.

But where to start? We break down what to look for when choosing the right software for your practice and take a deep dive into the top practice management solutions for dental practices like yours.
How to Choose the Best Practice Management Software

Server-Based vs. The Cloud for Dental Practices
Once upon a time, businesses – including dental practices – relied on local on-premise servers to manage their data and operations.
Dental practices with server-based practice management software typically have to pay large upfront costs to buy software, hardware, and on-site servers. Then they pay a monthly software fee, along with keeping IT on staff to continually maintain all the equipment. They also need an additional VPN to be able to remotely connect and access business software from home.
But, with cloud-based software, practices can ditch their on-site servers. Cloud-based dental practice management software providers install updates, back up your data, and increase security measures remotely with no IT staff needed. Users enjoy the most up-to-date, modern software available without all the additional on-site equipment and costs to maintain it.
On-site servers are also more susceptible to natural disasters. A fire or flood could wipe out your server and take with it all your patient records, whereas they would still be accessible and secured via the cloud. When your data is safe, you can focus on growing your business and treating your patients.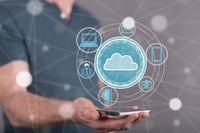 What to Look For in Cloud-Based Dental Software
Not all cloud-based solutions are the same. When evaluating the best practice management software for your dental practice, look for these critical features:
Remote Access: Users can access software anywhere directly from a browser without needing to log in to a server.
Data Backup: All your records are stored in a data center, not in an on-premise server room or in the software vendor's office.
Enhanced Security: Your vendor should have a data center built on a series of servers, with layers of security and intrusion detection wrapped around them.
Data Ownership: You should be allowed to easily extract your data whenever you'd like.
Customer Service: The vendor should be true "Software as a Service" and provide world-class service wrapped around the software – including customer care, automatic product upgrades, data security, backups, training and more.


Top 7 Dental Practice Management Software

1. Curve Dental
Curve SuperHero™ is the leading all-in-one, cloud-based dental practice management software that can replace 6+ vendors and doesn't require additional bolt-on software. That's because SuperHero combines practice management, patient engagement, imaging, disaster recovery, data backups, cybersecurity and payments in one easy-to-use software. More than 50,000 dental professionals use Curve for charting, scheduling, billing, imaging, invoicing, eClaims, ePrescribe, reporting and business intelligence, patient communication, payments processing, and more.
Ideal For: Independent practices, group practices and DSOs who are looking for always-available customer service, a beautiful user interface and an all-in-one platform at an affordable monthly price.
Highlights: Curve users consistently rate the platform high for its ease-of-use and customer support. Users on G2 rank Curve the #1 "Easiest to Use" dental practice management software.
Cloud or Server: Cloud-Based
Training: Training is included in your Curve Dental onboarding. A team of dedicated trainers leads your staff through 6 private, virtual bootcamp sessions and optional additional training to meet your practice's unique needs. Ongoing training is free via Curve Community.
Support: Curve's customer support team is available 24/7/365 via online chat, email or direct phone call. Curve's team answers calls in only a minute on average and typically resolves issues in under 8 minutes.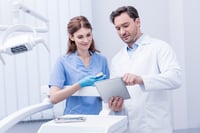 2. Dentrix
As part of Henry Schein, Dentrix is a mainstay in the dental practice management software market. Dentrix introduced its first product to the market in 1989, making it one of the longest-standing names in dental practice management.
In addition to practice management, Dentrix offers solutions for automated data backups, electronic claims, payment card processing, automated billing statements, website development tools, appointment reminders and voice recognition software.
Ideal For: Small dental practices that want an established, well-known industry veteran and already have their own server and Windows for their operating system.
Highlights: As industry veterans, Dentrix offers a wide range of additional services to help dental practices succeed.
Cloud or Server: Server-Based
Training: Dentrix offers on-demand virtual resources and for additional cost, in-office training options and profitability coaching.

Support: Dentrix users can purchase a customer service plan to access unlimited technical support and Dentrix software upgrades. For those that don't purchase the plan, support is available at a rate of $179.95 per incident.
3. Dentrix Ascend
Dentrix Ascend is Henry Schein's cloud-based practice management solution, designed to help group practices centralize data across their multiple locations. Ascend's focus is helping multi-site operations break down silos between their offices. Dentrix Ascend includes a predictive problem-solving feature called Goals, Problems and Solutions (GPS) to identify tasks that need attention, automate tasks and make your team more productive.
Ideal For: Group practices and DSOs who want to scale their operations across multiple locations with the flexibility of using the cloud.
Highlights: Ascend is Henry Schien's newer offering that gives customers a cloud-based alternative to its traditional Dentrix platform.
Cloud or Server: Cloud-Based
Training: Ascend offers virtual and on-site training, as well as how-to videos and step-by-step instructions on its website.
Support: Users can contact customer support through email or phone. Unlike Dentrix's server-based solution, Ascend includes support in its monthly subscription cost.
4. Open Dental
Open Dental is an open-source, server-based dental practice management software. Open-source software allows developers to make changes to the software once a license is purchased. This can offer added flexibility but requires an advanced technology team to implement. Open Dental offers charting, billing, practice management and imaging applications.
Ideal For: Dental practices looking for the basics at an affordable price, but are technically inclined themselves or have IT staff to manage an unencrypted, open-source software.
Highlights: Open Dental offers a trial version for those who want to evaluate the tool before committing.
Cloud or Server: Server-Based
Training: New users can access prerecorded or live webinars for initial training, and customized online training is available for $50 per hour.
Support: Open Dental users can reach customer support through chat, email or phone. Hours vary by time zone.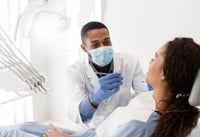 5. Oryx
Oryx is a newcomer to the cloud-based practice management software scene. Oryx offers four different packages so users can choose which level of features works best for them. Dr. Rania Saleh, a dentist and private practice owner, founded and helped create Oryx to streamline practice management without the need for add-ons.
Ideal For: Independent practices who are looking for a streamlined, cloud-based dental practice management software with a low-entry price point and pared down features.
Highlights: Created by dentists, Oryx is designed with dental professionals in mind. Its cloud-based platform and tiered package model is useful to smaller practices who need flexibility.
Cloud or Server: Cloud-Based
Training: Oryx offers 1-hour live webinars to help teams learn more about a particular platform feature.
Support: Oryx users can contact customer support through email or phone between 8 a.m. ET and 5 p.m. PT.
6. Eaglesoft
Eaglesoft is Patterson Dental's top dental practice management software solution. This software has been in business for 25 years and has 30,000 users. Eaglesoft provides everything from patient scheduling and insurance claims to paperless charting and digital image manipulation to streamline your day-to-day operations
Ideal For: Small practices that likely won't expand to multiple locations, already own a server, and want simple, easy-to-use software.

Highlights: Because of Patterson Dental's lengthy experience in the dental industry, Eaglesoft has stability and robust customer support that newer software solutions may not be able to offer.

Cloud or Server: Server-Based
Training: A team of technology advisors with previous dental industry experience provide users with in-person or remote training customized to their needs.
Support: Eaglesoft users can get live help through chat, phone call or email. Eaglesoft says most issues are resolved within the initial phone call with their knowledgeable support staff.
7. Denticon
Part of the Planet DDS family of solutions, Denticon is another top cloud-based practice management software choice. Denticon features include treatment planning, imaging, charting, scheduling, online patient tools, analytics, eClaims, and patient communication within the platform.
Ideal For: Dental practices of all sizes that appreciate the flexibility of using a cloud-based management software and are looking for features like patient communication tools built into the platform.
Highlights: Denticon users give it high rankings for "Ease of Setup" and "Quality of Support." It offers a wide range of features that modern practices will enjoy.
Cloud or Server: Cloud-Based
Training: Denticon offers training before you go live and ongoing resources and videos to help you navigate the platform.
Support: The Denticon Help Portal is available to customers and houses answers to frequently asked questions, how-to videos and a troubleshooting tool. Within the Help Portal, users can also submit a help ticket, but there's no real-time support option.
Choose the Best Practice Management Software for Your Dental Practice
Selecting the best dental practice management software is a personal decision based on your team's priorities and future goals. What may work for a small practice with no plans for another location wouldn't be a feasible long-term solution for a multisite DSO.
Need help picking a solution that will help your organization succeed? Check out our guide, "What Practice Management Software is Right for You?"