Are you tired of waiting for the insurance companies to snail mail Explanation of Benefits (or EOBs) to your office? According to the United States Postal Service, the target delivery time for any letter in the United States outside the local delivery area is three to five days. With today's speed of business, waiting for important information to arrive by mail represents a whip lash halt in productivity. Curve Hero can grab the same information in heartbeat, and save you the stiff neck.
Just as insurance companies have come a long way from requiring a claim submitted on paper, they have also progressed away from mailing out the dental EOB, to being able to electronically provide you with this information. This process is called Electronic Remittance Advice or ERA.
In Curve Hero, when an insurance company replies through the ERA dental process you can access the information through the Claims Module. It will display the Check or EFT number and the Dates.

By right-clicking on the date and selecting "View response", you will be able see the reply. It will look something like this: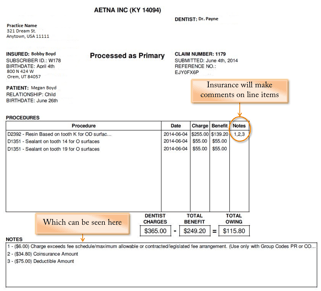 Benefits of using the ERA Dental Process
Some of the benefits of using the ERA option are that you can use this document, if needed, to send a claim to the Secondary Insurance policy the patient may have. Instead of waiting weeks to a month to get this back through the mail it can come back in days. It will be delivered electronically so you do not have to scan the document into the patient's record.
The process to start receiving ERA's is quite simple. We'll send you a list of Insurance Carriers. You mark the Carriers that you send claims to and then send the list back to us. We then process the work for getting you signed up for those payers to start the ERA's. There might be a few Carriers that require additional information, but we would provide those documents to you to fill out at that time.
The main benefit of the ERA is knowing much sooner what will and won't be paid for any particular claim. The earlier you are able to submit a claim to secondary insurance, or correct a rejected claim, the healthier you A/R will be. You'll save time as the primary benefit, and, as they say, time is money.
Feel free to call Curve Dental customer service if you have any questions: 888-910-4376 option 3.