Did you know that you risk losing $.80 for every $1.00 that goes beyond 90 days past due?
The foundation for any successful practice is ensuring you're getting paid (in a timely manner) for the work you are doing. It's the easiest way to make more money without having to work any harder.
According to Due.com, "If you haven't been paid within 90 days, only 18% of those invoices get paid. So don't plan on having that invoice get paid at all." That can easily add up to tens of thousands of dollars ($$$) a year, if you don't keep a close eye on your Accounts Receivable Aging trends.
But how often do you review the state of your collections, production and AR aging reports? It can take days or weeks for your office manager to prepare a report for you, which is valuable time they could have been using to collect payments and increase cash flow for your practice.
At Curve Dental, we believe that your practice management system should give you clear and actionable insights into business metrics like Accounts Receivable to pinpoint where your team should focus their time and effort to make the most impact. These insights and dashboards are all included with your Curve subscription and are available at the click of a mouse.
Grab a cup of coffee, and ask yourself the following questions:
Do you have real-time insight into your collections? Are you truly on top of where your money is, or is this reporting outsourced to someone else? You may trust the reporting is getting done, but how helpful is that to you if you only get insights at the end of every month?
What's the impact on your practice?
If you're not getting paid for the work you've done, you can never get ahead. It makes it difficult to determine if you have the capital to hire another staff member, or if one is even needed, based on productivity and cash flow reports. On the contrary, this reporting may reveal your practice's ROI on employing extra staff isn't justified and that these funds may be invested in alternate, more effective ways.
Knowing exactly where you stand financially — at all times — allows you to make the business decisions you face every day with confidence. Improving your collections by just 10% could allow you to buy that new piece of equipment or expand your marketing budget to reach new patients. Curve gives you the ability to make decisions based on real-time data, provided to you with no additional effort from your staff or cost to you.
What do our Accounts Receivable and Collections dashboards reveal?
Our group of operational dashboards tells a practice how effectively they are collecting money and where they may have specific problems with a payer or a particular kind of treatment.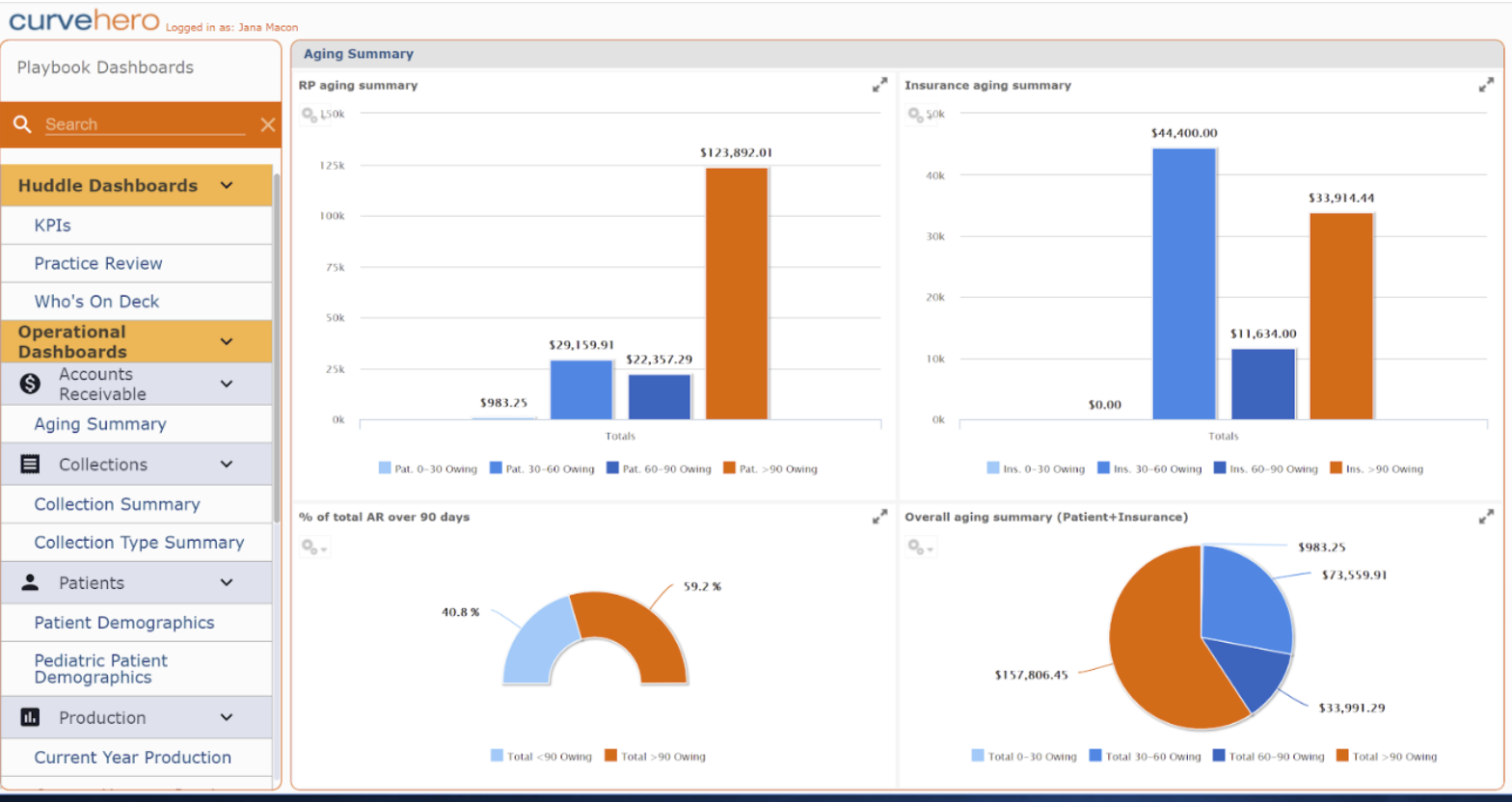 Find out:
How much money is owed to your practice

Who owes it (Patient/Insurance)

How long have they owed it

How much money you've already collected

Who you collected it from
This information enables you to identify chronically late patient payers and insurers, consider if you should still accept that insurance provider, and manage/forecast payroll with cash flow.
The Curve Dental Difference
Most dental software platforms today do not offer this kind of insight into the financial health of your practice, and some require you to purchase additional products to get this valuable information. Access to your own business data can end up costing you hundreds of extra dollars a month.
Curve Dental offers this functionally with your subscription because we believe you need and deserve these critical insights into your practice. Take the guesswork out of your business, and expect more from your practice management system.
To learn more about advanced Reporting Tools, sign up for a demo today!